It's hard to imagine a more universally relevant "soft skill" than communication. No matter the context, the ability to get ideas across is invaluable to doing business, helping ease the friction between stakeholders and ensure various parties stay happy and engaged. Whether in conversation, through electronic communication, on the phone or in any other context, it's useful for people to be adept at making their points.
While communicating and collaborating are widely applicable values, they are commonly associated with certain employee roles far more than others. If you're considering teaching communication skills to your employees, you may be dividing individuals into those who can use the lessons and those who can't.
For instance, sales teams are likely on the list to receive communication training, alongside customer service teams and potentially managers and HR leaders. But what about the IT workers whose duties largely occur in the server room? How about designers and other creatives? Even in these cases, where people don't lead teams or interact with the public, improved communication skills can still have benefits. The following are a few of the benefits of opening up communication training to a wide swath of employees.
Every Team Benefits from Better Interpersonal Abilities
Training Industry pointed out that better communication between employees delivers improved performance in several important, bottom line-driving situations. For example, when a company needs to make a significant operational change, improved collaboration and contact at all levels helps the new system take hold. With many leaders conceding  their change management efforts fail, there's clear value in teaching leaders to explain new processes to their teams, while also assisting team members in asking questions and voicing concerns. Far-reaching communication training can have both of those effects.
Everyday operations, both external and internal, depend on people being able to express themselves clearly. Customer service is a clear-cut case of communication as a core value, as is project oversight. An internal project falling apart due to poor collaboration isn't as immediately noticeable as a failed customer interaction, but the result is still a setback for the organization. Internal meetings and external conversations employ a similar set of abilities, and leaders who only invest in communication training for one side of the business may encounter problems in the other.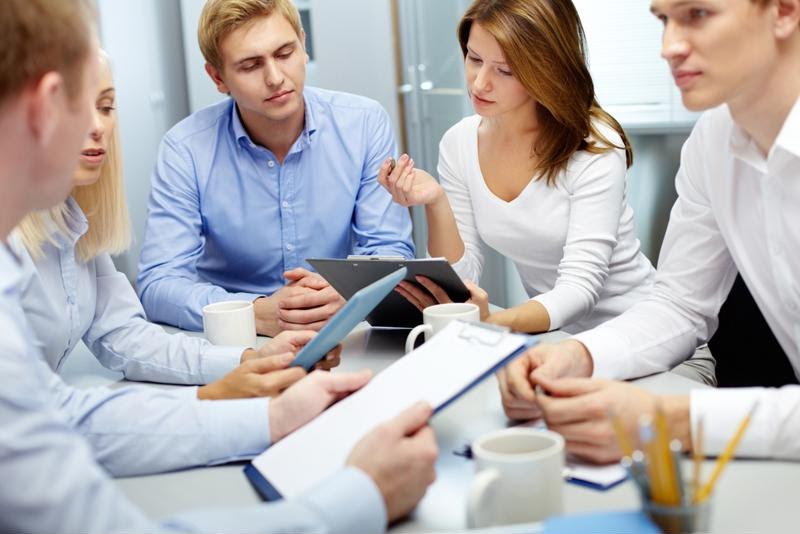 Bad Communication Damages Companies Over Time
Encouraging good communication between employees isn't just a productivity-boosting activity — it's also a way to prevent the negative impact of bad communication from taking hold. The Corporate Finance Institute pointed out when individuals within the workplace don't have a solid grounding in the skills behind positive collaboration, they may lapse into bad habits such as passive aggression, non-specificity and use of the wrong medium to convey important information. Organizations dealing with these negatives for too long can suffer unexpected consequences.
CFI gave an example: Supervisors at Radio Shack laid off hundreds of employees via email, an insensitive move that could have been softened with better communication preparation for the individuals who sent the messages. The action was so poorly received within the company that it became an image-damaging news story that lingered in the public perception.
Companies' images aren't just shaped by their worst moments — such as the Radio Shack example — or their best qualities. As industry expert and author Blake Morgan wrote for the Forbes CMO Council, a business's identity is created by everyday interactions between people and customers. In today's social media-saturated commercial environment, there is more visibility than ever into the individuals who make up a corporation. Actions and words by many employees can reach consumers directly, and it's easy for audiences to conflate one person's words with the company's point of view.
When workers throughout departments and up and down the corporate ladder have received a strong grounding in effective communication, they'll be better prepared to represent the brand, whether they're acting in an official capacity as a spokesperson or answering a Twitter question about a technical matter. In their day-to-day roles, these individuals will be better prepared to share information with one another, and when customers raise questions, they'll be ready to answer those, too.
Investing in Training Has Never Been Easier
While in the past, training was a relatively expensive and time-consuming option for teams, today's marketplace has changed considerably. The primary difference has come from the introduction of digital courses, including video-based offerings. When training meant hiring an outside presenter and taking employees away from their day-to-day tasks, learning sessions were costly and inconvenient. Offering an interactive course with video features is both more convenient and more affordable.
Whether your team consists of 10 people or 10,000, and whether you have one facility or dozens around the world, modern training options adapt to the scale of your operations. The positive effects of improved communication are worth the investment, and they're easier than ever to access.